If the beverage industry reduces the sugar content of 37% of its products, the proposed sugary drinks tax could result in around 1,475 job losses.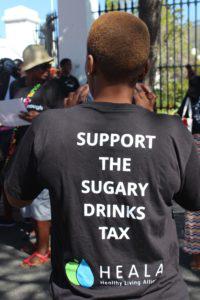 Treasury official Warren Harris reported this to parliament yesterday while giving Treasury's response to the many submissions made on the tax.
The beverage industry has warned of tens of thousands of job losses should the tax be introduced.
Treasury has proposed a 2,1 cent tax per gram of sugar on all sweetened drinks, but the first 4g per 100ml will be exempted as an incentive for producers to reformulate their drinks with less sugar.
It plans for the tax – which it calls a health promotion levy – to come into effect as soon as the Rates Bill becomes law, Treasury Chief Director Mpho Legote said.
MPs in the Finance Committee are currently debating the Rates Bill, and Parliament has held four public hearings on the tax.
Treasury's socio-economic impact study, which has been presented to Nedlac, projects that a maximum of 7,200 jobs will be lost if the beverage industry does nothing about the sugar content of its drinks.
But if it reduces the sugar content and promotes sugar-free options, there would be relatively few job losses – mostly involving sugar cane growers.
Impact study rejected
However, Cosatu's Matthew Parks said that both industry and his federation had rejected the impact study at Nedlac as it was "Treasury-driven" and "doesn't address sugar farms and sugar mills".
In order to protect sugar sector jobs, Cosatu wants government to increase tariffs on imported sugar, government support to increase sugar exports and for local manufacturers to be compelled to use 100% local sugar in their production (current level is 85%).
"But the long-term future is using sugar for biofuels," said Parks, adding that Cosatu was pleased that the Department of Trade and Industry had recently become involved in trying to work out ways to mitigate the effects of the tax.
"We don't think that the health goal is hostile to jobs, as the non-communicable diseases (NCDs) especially affect working class families," said Parks.
Meanwhile, Melvyn Freeman, Chief Director for NCDs in the Department of Health, warned that government had to urgently address the "very profound impact of NCDs".
"Unless we stop the NCD numbers, the health system is going to be completely overwhelmed," warned Freeman.